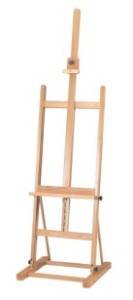 I started new classes in September and they're in my home.  So, to set the stage, I lugged a very heavy, beautiful art easel up the stairs from the garage.  I had it hidden away for years and when it was unveiled, I thought, "Now, why is this not in use?"  I also have a blank canvas in the garage and no excuses.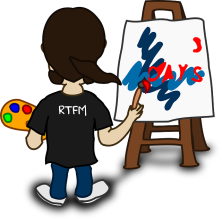 I got caught up in the belief that I have no room.  And I latched on to that belief, denying myself a huge part of creativity and expression.  The topic of my painting is part of my expression.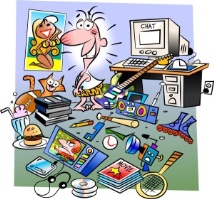 How many of you have been caught up with excuses for not painting, or writing, or creating something that has been sitting or hidden for years?  Just waiting for you to give it energy.  Sometimes we get caught up with everyone else's troubles and we forget to expand a space for ourselves.  No excuses!  We can make it happen so easily if we shut off our monkey brains and just do it!  Poor lighting?  No room?  No time?  Really?
Inspiration is a fabulous energy that we need to pump-up.  Channeling that inspiration, whenever we are in our creative mood, is within us.  It's a way of letting go and getting close to our center.  So, be brave.  Haul out that (fill in the blank) and get off the cell phone and computer!  It's your duty to offer any type of inspiration you can in order to fill in the dark holes of this universe.  It's the first and most important step in finding your place in the world.

  
 You are unique.  Find your personal foundation and approach the work.  Stop trying to fit into a space and instead make your space meaningful and magical.  It saves you time trying to find your creative self on the outside.
Be Thankful for You – There's enough room for everyone!  Turn on your own light!
CLASSES ON MONDAY IN OCTOBER
CLASSES ON SUNDAY IN NOVEMBER
629 Temple Ave., Long Beach
7:00 pm. Until 8:30 pm
$20.00
Monday, October 5  -  Dream Work & Self-Reality
Monday, October 12 - Putting Your Dreams Into Action
Monday, October 19 - Higher Guidance Creating Movement
Monday, October 26 - Now, Who Are You?
Sunday, November 1
8
15
22
29
Jeanie MacDonald